In this July edition of our HUD-REAC newsletter, I will be focusing on what we know thus far regarding HUD-REAC inspections recommencing this year.  Thanks to a call hosted by NAHMA on July 17, 2020 a lot more concrete information was provided!
A link to HUD's PowerPoint presentation is included at the bottom of this newsletter.
HIGHLIGHTS
Due to the recent spike in COVID-19 cases, HUD has not released a date to resume inspections.
HUD will notify Owners/Agents/Public Housing Agencies at least 45 days prior to the planned resumption of HUD-REAC inspections. HUD leadership stressed that there will be no "surprise" inspections – they will remain transparent.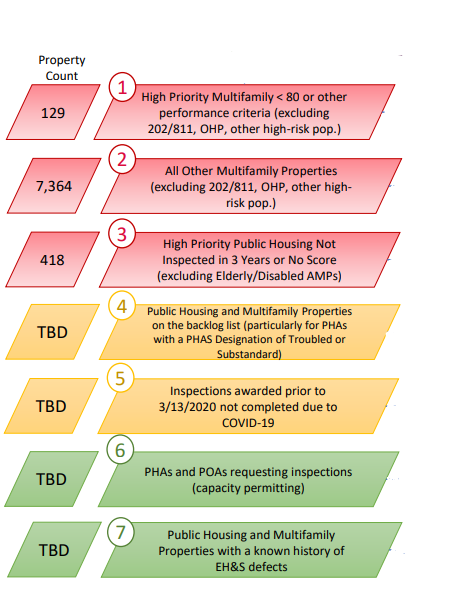 When the RTO rolls out, the following
properties will not be inspected
during the first phase:
All Elderly/Disabled Properties including:
202/811 PRAC
Section 232
Section 236
Public Housing AMPs
During the first phase, 129 properties have been given a "high priority" status for a REAC inspection.

This is dependent on local health & safety restrictions and property-specific health issues.
HUD-REAC will post to their website a list of Public Housing Agencies (PHA) and Property Owners/Agents (POAs) that meet all 5 of the reopening criteria.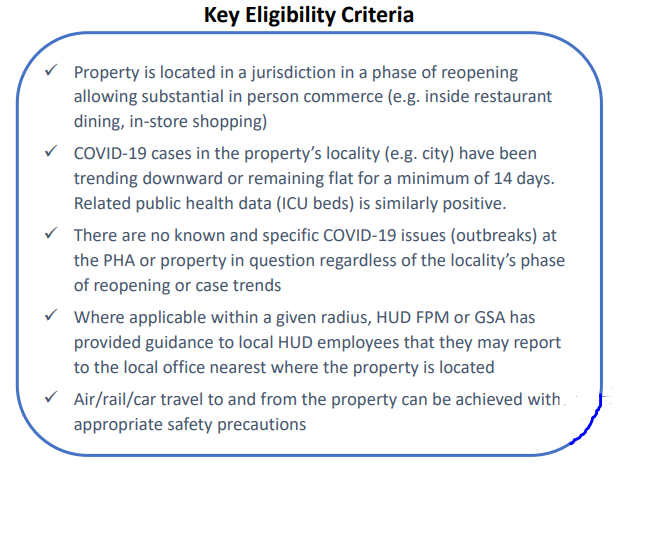 HUD will require inspectors to wear face masks, gloves and use hand sanitizer, at a minimum, when conducting inspections
POAs and PHAs are responsible for communicating local restrictions to the inspectors at the time the inspection is scheduled
HUD will determine if an inspection should be cancelled due to local restrictions or reported COVID-19 cases with the guidance of the local HUD office.
Click here to view the full HUD-REAC PowerPoint Presentation