As of 5/12/20, HUD-REAC has assured inspectors that REAC inspections will resume at some point this year.
In this June edition of our HUD-REAC newsletter, I will be discussing the rest of the deficiencies associated with water heaters and domestic water systems.
Domestic Water deficiencies are recorded under the Inspectable Area: Systems, and includes:
Water conditioners, water heaters, transfer and circulating pumps, strainers, boilers, connecting piping, fittings, valves and supports.
Hose bibs that service a single common area OR multiple units
A water tank located in a single common area (i.e. kitchen or laundry)
This does NOT include:
The portion of the water supply that connects to the heating and cooling system
Delivery points of the system such as sink and faucets in units or common areas
Hose bib that is associated with an individual unit
Water heater deficiencies are recorded only under the Inspectable Area: Units.
| | |
| --- | --- |
| Domestic Water (System) Deficiencies | Water Heater (Units) Deficiencies |
| General Rust/Corrosion on Heater Chimney**Leaking Central Water SupplyMisaligned/Damaged Ventilation SystemMissing Pressure Relief ValveWater Supply Inoperable | General Rust/Corrosion**Leaking Valves/Tanks/PipesMisaligned Chimney/Ventilation SystemMissing Pressure Relief ValveInoperable Unit/Components |
**With the exception of General Rust/Corrosion, the deficiencies are nearly identical**
Misaligned/Damaged Ventilation System (Both Systems and Units)
Definition: The ventilation system on a gas-fired or oil-fired water heater is misaligned
In addition to the Level 3, this is also considered an "Exigent Health & Safety (EH&S)" – must be repaired in 24 hours and reported to HUD within 3 business days.
Any misalignment or damage that may cause improper or dangerous venting of exhaust gases will be recorded.
The inspector will check the piping to ensure that it has no gaps (sometimes hidden by tape) and that the piping size runs from either one continuous size or runs from smaller to larger beginning with the smaller piping at the water heater.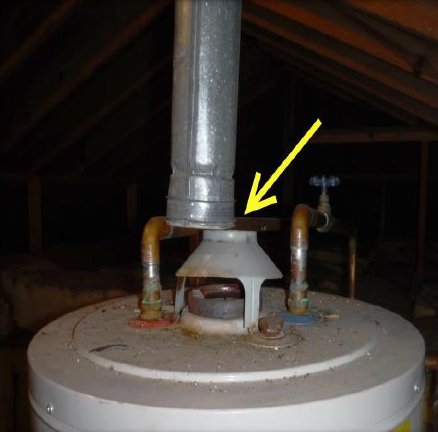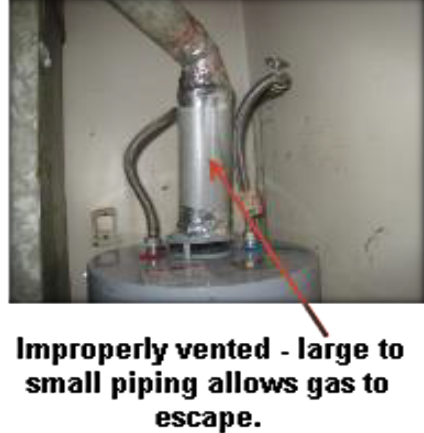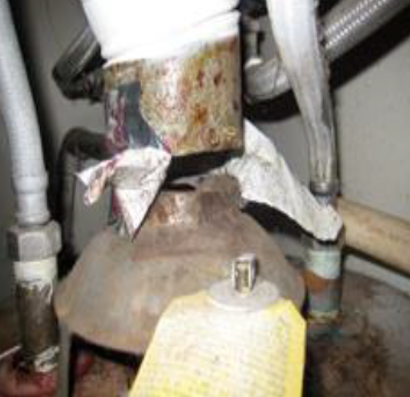 Missing Pressure Relief Valve (Both Systems and Units)
Definition: The pressure relief valve on the water heating system is missing or does not extend to the floor.
Also known as a Temperature Pressure Relief Valve (TPR)
This is the most common deficiency under both Domestic Water Systems and Unit Water Heaters – typically the valve is there but the discharge pipe is not connected.
HUD mandates the discharge pipe be no higher than 18 inches from the floor or piped into an approved drainage system. Check your local codes because most jurisdictions only allow 6 inches from the floor but not less than 1.5 inches. It goes without saying…the piping should never be routed UP!
The pressure relief piping should never be crimped or restricted, but if it is – the Compilation Bulletin directs inspectors to record in a non-scoring section (H&S: Hazards: Other) as an observation.
Do not forget to pipe the pressure relief valve on the boiler for your pool or jacuzzi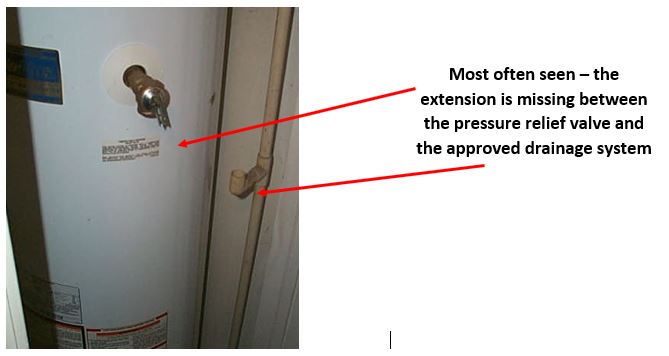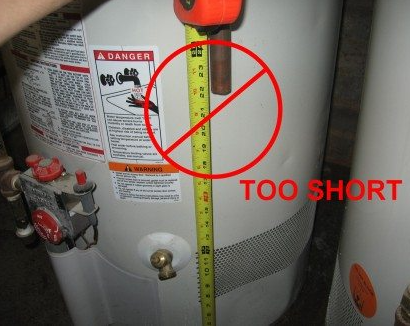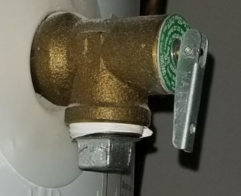 Water Supply Inoperable (Domestic Water System) and Inoperable Unit/Components (Hot Water Heater – Units)
Definition: Water supply is not available because the system or system components have malfunctioned.
Applicable to Level 3 only
This deficiency is self-explanatory except for one important aspect. The Compilation Bulletin states,

Please note – if no sinks or tubs in the unit have hot water, the inspector will record a defect for an inoperable water heater and will not record a defect for each of the sinks and/or tubs in the unit.